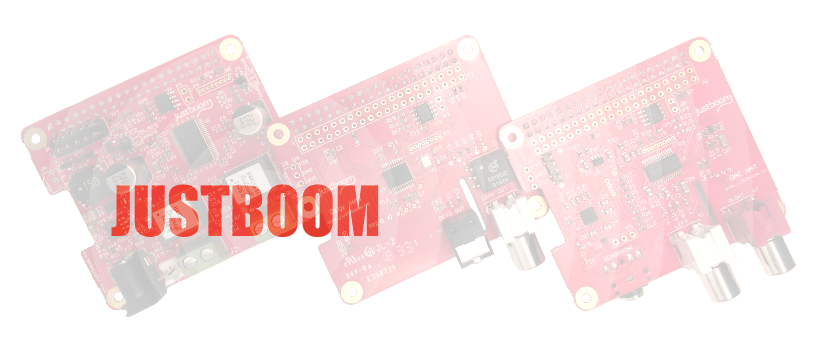 The Plugin JustBoom installs the JustBoom sound cards for the Raspberry Pi. With just one click, it lets you configure Max2Play for its typical applications fields.
At a glance
Installs and configures JustBoom sound cards with just one click
Offers various configuration options
Easy installation of a rotary encoder as well as an IR and Smart Remote control
Offers three preset audio configurations (Starter, Advanced, Simple AirPlay)
Compatible with the JustBoom Amp
The tab JustBoom lets you select your sound card (DAC HAT, Digi HAT or Amp HAT) from a dropdown list of items, the selection can be saved and the sound card can already be used after a reboot of the Raspberry Pi. Depending on which sound card you are using, you will have multiple sliders to adjust the output. A change of the sound card is always possible with just one click. The possibility to combine a JustBoom Amp and a DAC HAT is also given and odes not require any further adjustments on Max2Play's configuration.
The plugin offers the typical three audio configurations by Max2Play: Starter, Advanced and Simple AirPlay. Depending on your needs, you can select your preferred setup and Max2Play will realize all the necessary steps in the background so you are able to get started right away.
In addition, the plugin supports a Rotary Encoder with a button function, mounted on the JustBoom sound cards, as well as an infrared and smart remote control for Squeezelite, Jivelite, MPD or Kodi. How the rotary encoder works in pactice and how to set up the remote controls, is explained in the following guides.
How to set up the Rotary Encoder with JustBoom sound cards
How to set up the JustBoom IR Remote with IR Receiver