It allows for simple and comfortable control and configuration of single board computers like the Raspberry Pi directly via any local internet browser (using laptop, PC or smartphone). This makes the connection of a mouse, keyboard or screen obsolete.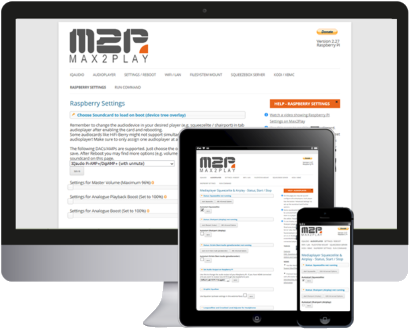 Play Audiophile Music
&

HD Videos

Max2Play lets you render all established audio formats. In addition, we offer special Max2Play Plugins for the most popular Raspberry Pi sound cards. A simple multiroom audio setup is one of Max2Play's major application fields: we use a Squeezebox Server to set this up in order to be able to integrate all pre-existing Squeezeboxes into the multiroom system. Max2Play uses KODI and enables the playback of HD videos. Max2Play consequently allows both audio and video playback on one system.

Audiophile Music

Play HD Videos


Music Server
&

Home Automation

Max2Play is both server and player at the same time. This means you can install a Squeezeserver locally on your Max2Play device (e.g. Raspberry Pi) and use our mounting tools to easily mount your whole local music library. Additionally, the device can be used to play back music. Aside from local files, you can use streaming services like Spotify or stream music via AirPlay or Bluetooth. We also offer various plugins for home automation sector.

Music Server

Home Automation
What users of Max2Play say
"I just wanted to say what a great application! Max2play is a perfect partner for your Raspberry Pi to develop a high quality Squeezebox multi-room sound system, simple and quick configuration through the Web interface, with great email support from the Max2play Support Team."

Andy S.

Max2Play Homepage

"Since I'm coming from Squeezeplug to Squeezeplug & Max2Play, I'm all in for everything Squeeze. I just configured the SP&M2P on a Rpi2 with Premium license and an iqaudio Pi-DAC+ – and yay it's hard to wipe the grin off my face since then :-) Beautiful job you did here, truckloads of kudos!"

Morti U.

Max2Play Forum

"Now I can setup my entire project(!!): 5 Pis with all media saved on a Synology DS212.

2 of them via LAN & 'dLAN', used with Kodi (TV, movies, series, streaming) & Squeezebox Player (using USB-soundcard)
2 of them via WiFi, used as Squeezebox Player
1 of them via LAN, used as Squeezebox Server

Thanks Max2Play for providing the base. You are awesome."

Markus G.

Max2Play Forum

"I really enjoy your great piece of software. It's more than easy to use and does exactly what it should."

Peter H.

Max2Play Forum
Start and end your day with the music of your choice – a guide for multiroom music control in bedroom and bathroom with a special focus on features like alarm, sleep timer, app and button control. We give you tips on selecting the right hardware and the matching speakers.
19. June 2017 - 0 Comments

Inspired by the creative audio and DIY community, HiFiBerry and Bang & Olufsen Create want your projects for their "Maker Contest 2017".
Max2Play supports the event as an official software…

12. June 2017 - 0 Comments

If you want to know, which display bundle ist most useful for you, you can find out here.

2. June 2017 - 0 Comments

Justboom expanded their product range with the new Zero-line. Here we give an overview of the new sound cards for the Raspberry Pi Zero.
Max2Play community projects