Set Up the Infrared Remote by JustBoom
Set Up the Infrared Remote by JustBoom
Attention: This is a fix for a change in Raspberry Pi's structure. We will add this fix to the next official Max2Play update, so it will be applied automatically for all new images after Version 2.48.
Step 1:
Make a Beta Update with the buttom Update2Beta Max2Play in Settings/Reboot.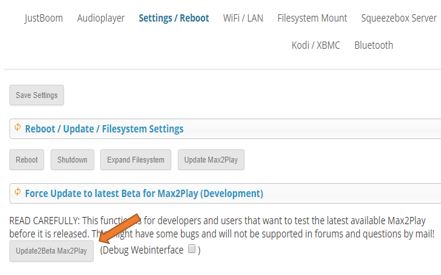 Step 2:
Reboot Max2Play.
You will see the text "You are running a Beta-Version of Max2Play" in your sound card configuration, if your Beta Update was successful.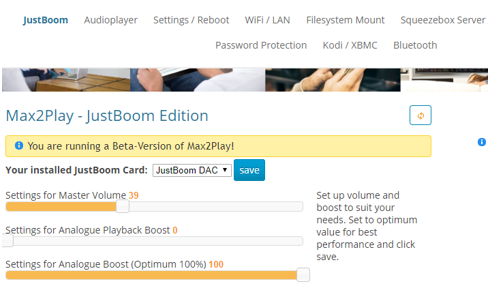 Step 3:
Go to IR-Control in Additional Settings for Justboom-Cards OR in Hardware Control Plugin.
Choose your IR integration and press Install IR-Support.
Please note: Do not set up IR-Control under both the JustBoom menu and in the Hardware Control plugin. You only need one.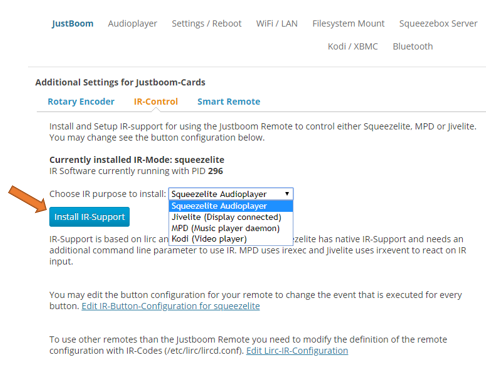 Step 4:
Reboot Max2Play.
You can now control your Max2Play with the JustBoom Infrared Remote.
For more information on this change, check out our announcement in the Max2Play Forums.
How-To
section where we have prepared a set of instructions on how to realise several projects. For further questions please visit our
forum
. Thank you!
Don't forget to check out our special